Report from the PNLA conference 28th November 2019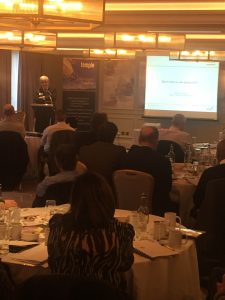 (Estimated reading time: 1 minute, 31 seconds)
Temple were pleased once again to be a sponsor of this successful annual event. The focus of this year's conference was the changing fortunes of those involved in the professional negligence arena, entitled 'Wheel of Fortune'.
The speakers were of the highest quality and experience; these kicked off with Patrick Lawrence QC's interesting and informative introduction, which he followed with a Professional Negligence and Liability update in conjunction with Nicholas Davidson QC. This got delegates in the mood for a series of further dynamic and thought-provoking talks from acclaimed professional negligence barristers. This included a look at Gladman v Fisher Hargreaves Proctor where an appeal was thrown out due to abuse of process and failing to adhere to guidelines set down in Aldi Stores Limited v WSP Group PLC.
Next up was Ian Wilson QC with a look at Lender Claims and Contracts (Rights of Third Parties Act) 1999, with a particularly close look at Chudley & Bean v Clydesdale where the bank signed a letter of instruction to establish a Segregated Client Account. The case focused on the letter of instruction forming a contract.
The day continued with talks from David Berkley QC, focusing on examples of practitioners effecting reasonable behaviour or taking advantage in litigation, followed by our own Matthew Pascall addressing the conference with regard to lawyers' appetite for considering After the Event/Litigation Insurance at appropriate stages in litigation, including the advantages of insuring early and with appropriate indemnity.
The day drew to a close with a look at COBS 10 with Susanne Muth of Forum Chambers, plus an interesting look at Grant Thornton's approach to reducing workload with the use of technology in labour intensive E-Disclosure. A stimulating panel discussion session giving an opportunity to ask frank and thought-provoking questions concluded the event.
Overall, the view among delegates was of a very successful conference with all leaving well informed.