By Andy Lyalle, Senior Business Development Manager
(Estimated reading time: 3 minutes, 59 seconds)
A few years ago Jessie J sang about 'shades on your eyes' and 'ba–bling ba-bling' in her song 'Price Tag' but, for commercial dispute resolution disbursement funding, is it also all about the price tag?  We share our experience from the sharp end of decisions about disbursement funding and how Temple Funding addresses these.
A common comment at meetings I have with solicitors with is, "We have looked at disbursement funding before and it all looked good until the end of the meeting when they finally disclosed the interest rate".
They were referring to not only the size of the interest rate but also the complexity.  At Temple it is 10% per annum. You can use our interest rate calculator to work out how much per annum a sum of money will cost your client in interest.
Another observation is "there were other fees whereby the representative rate is much higher".  The only other fee at Temple is a £75 drawdown fee which is added to the loan. The interest will run from this time.
The effects of Covid-19 on individuals and organisations has meant an increased need to source and provide funding and insurance solutions for clients.  Litigation insurance has always looked to 'level up' the playing field but clients are understandably reticent about embarking on litigation where their money will be tied up and potentially not recovered.  Where the requisite merits of a case are established a client is often looking for certainty and a suite of options.
Temple Funding is the sister company of Temple Legal Protection, so the litigation insurance and disbursement funding is all "under one roof".
Your client may be looking to hedge their position and therefore looking at litigation insurance only.  At the other end of the scale they may not be able to pursue the case at all unless the solicitor and Counsel act on a CFA and Temple provide the litigation insurance and the disbursement funding that comes with that insurance cover automatically.
At this point, it can be seen that It is not all about the price tag – it is about understanding what your client requires and what is available to them.
A selection of other issues also often presented include "This is usually very time consuming.  We need to be accepted onto a panel of approved solicitors, organize litigation insurance – which can be a higher premium because of the funding – and then wait for me to sign the client up"
Temple are very happy to deal with bespoke cases, whether conducted on a CFA or on a fee-paying retainer.  If a relationship develops with us, a delegated scheme can be provided for litigation Insurance and disbursement funding.
There is no panel of approved solicitors, because your client will already have insurance with us.  If disbursement funding is required, you will be a credit intermediary and can deal with your client yourself.  A very simple procedure that we are happy to run through with you.
The client may well, correctly, think, "I can fund the disbursements myself with no interest rate" or "I can get a loan from a bank at a much better interest rate".  Agreed, but my experience – heightened by the impact of Covid 19 – is that the client will be reassured by the fact that repayment of Temple disbursement funding is deferred until case completion. In addition, if the case is unsuccessful they do not repay the funding or interest.  Not something that a bank will agree to or will happen if these costs are self-funded.
I often hear "if the case loses you get paid through the litigation insurance policy so you cannot lose". I remind them that we are the litigation insurers so can lose and sometimes do.  We have a very real stake in the case and developed our disbursement funding product as an additional, optional service attached to the insurance to ease the cost of litigation.
Finally, the question "Is the interest recoverable in a successful case?" It has been recovered, but the advice of Temple is that the default position is that the client will be liable to pay it when the case is successful. If you can recover it for the client, great.  It's a discussion for another article but I believe that the case law is 'obiter dicta' rather than 'ratio decidendi' but Temple Funding has a very competitive and proportionate interest rate and can only increase your chances.
In summary, price is very important but, again, it is not all about the price tag. Simplicity, transparency and flexibility are all crucial – for your client's peace of mind and your fee-earning.
If you would like to discuss litigation insurance with disbursement funding or a delegated authority scheme for your firm's commercial litigation team, please do call me on 07936 903767 or send an email to andy.lyalle@temple-legal.co.uk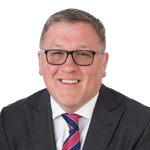 Andy Lyalle
Senior Business Development Manager
Read articles by Andy Lyalle
Andy Lyalle
Andy has worked in Legal Services for Twenty Five Years. After obtaining a 2:1 Law Degree and a Distinction in The Legal Practice Course he embarked upon an in house career at RAC Legal Services in Bristol. During this fourteen year period Andy was a Legal Advisor for four years and Legal Network Manager for ten years. A role which he developed and made his own. This was a hybrid role that involved technical legal work and also business and relationship management. He achieved the RAC Chairman's Award in 2001 for "sales excellence" and has a star named after him as a result!
During the above period Andy managed a large panel of external solicitors and the work that RAC Legal Services processed on behalf of thousands of RAC Members and BTE LEI clients. Predominantly this work was personal injury but he also managed a panel of criminal law barristers chambers who represented RAC members and policy holders. He also managed the BTE claims which involved commercial and dispute resolution claims which involved a large number of employment cases. Andy managed a large costs centre and profit centre during his time at RAC and was also involved in the development of its high profile in house practice. He also designed and implemented a BTE LEI policy for RAC Members and an ATE Insurance policy which panel solicitors could use for their clients under a collective conditional fee agreement.
Following the acquisition of RAC by Aviva in 2005 Andy remained to work with both organisations for another three years. He then decided to move into business development completely in early 2009. His first two and a half years were at Temple Legal Protection whereby he added many solicitor clients to the business working across the personal injury, clinical negligence, commercial and employment departments. Following this excellent and successful experience Andy set up his own consultancy business which enabled him to work with many legal providers and solicitors including cost drafting companies, medical agencies, litigation/disbursement funders, claims management companies and solicitors firms. He also put together a panel of solicitors for the first real time legal services aggregator platform on line.
After wearing many hats Andy was attracted to becoming part of a team again at a legal services provider with an excellent brand, team, reputation and product offering. Temple ticked all of these boxes and he is delighted to be back as Senior Business Development Manager. Based in our Bristol office but working Nationwide Andy enjoys meeting our existing and potential clients. He will listen to your requirements and work with you and our team to make sure that we add value to your business. His attitude is to find ways of making things happen and work successfully as opposed to discovering obstacles. Working predominantly in the Commercial Dispute Resolution team he will be pleased to hear from you to discuss our ATE Insurance and Funding products which are all under one roof. He will also be pleased to talk to you about our BTE Employment Protection Schemes and Personal Injury and Clinical Negligence ATE Insurance and Funding products and steer you in the right direction.
Read articles by Andy Lyalle