Providing rehabilitation and recovery for people with neurological injury and illness
At Temple we are committed to supporting our selected charitable endeavours. In this article we asked one of our charity partners, the Brain and Spinal Injury Centre (BASIC), to share their story.
Clients and purpose
BASIC has been based in Salford for over 30 years. We work with people suffering the effects of a neurological injury or illness, and we support their families too. Our clients and those who care for them have had their lives changed forever because of health events like a traumatic head injury, brain haemorrhage, brain tumour or stroke.
Recovery from the damage sustained can take many years, so when people reach the limits of NHS treatment, we take over with our community support.
The complex problems can negatively impact many parts of a person's life, including physical, intellectual, emotional, vocational and social abilities. Clients can have lost the ability to walk or stand, move their arms or balance. Invisible issues include persistent fatigue, memory problems, personality changes and problems with pain. Our clients have also lost key relationships, social and work activities – the very things that make life worth living.
Our mission is to rebuild these lives and help people live the way they want to.
Services and Support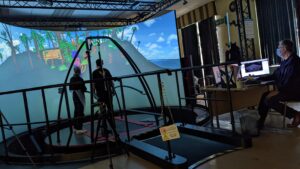 We offer a holistic health service at BASIC, supporting both physical and mental health. Our therapists tailor support for clients to achieve their goals for cognitive, physical, psychological and emotional recovery.
Our neuro-physiotherapy suite and assisted gym provide unique support for rebuilding physical and cognitive abilities, while our psychological therapies support mental health. Underpinning this is a community of support via group activities, a garden, shop and café.
We have recently been funded to provide an electric minibus service for local clients who find travel difficult or expensive. The new vehicle has taken its maiden voyage and is quickly generating interest and the first satisfied users providing easier lives for our clients
How can you support BASIC
Do you know someone who could benefit from our services? Please refer them to BASIC through the website www.basiccharity.org.uk
Could you or your organisation help with any volunteering time? There's always a difference to be made at BASIC.
Could BASIC be your charity to support? Whether that's a one-off fundraiser or being your charity of the year find out more at https://www.basiccharity.org.uk/corporate-support/
If you would like to support people with neurological injury and illness then please contact BASIC via email to enquiries@basiccharity.org.uk or call 0161 7076441.